镜头中的世界 | 马克龙、苦工、圣殿和CES
新闻来源: 英文联播 于 2018-01-13 20:03:18
敬请注意:新闻来自网络,观点不代表本网立场!
Salvador, Brazil

巴西萨尔瓦多
People take part in the traditional Lavagem das Escadarias Bonfim, a symbolic washing of the steps and churchyard of the Bonfim church with scented water, which dates to the 1700s
Photograph: Lucio Tavora/AFP/Getty Images
La Paz, Bolivia
玻利维亚拉巴斯
Peugeot driver Stéphane Peterhansel and his co-driver, Jean-Paul Cottret, spray spectators as they drive between Arequipa and La Paz during stage six of the 2018 Dakar rally
Photograph: Eric Vargiolu/AFP/Getty Images
Singapore
新加坡
Khansa, an eight-month-old critically endangered Bornean orangutan, shows off her teeth at Singpore Zoo. This is the zoo's 46th successful orangutan birth as part of its active breeding programmes used for wildlife preservation
Photograph: Wong Maye-E/AP
Makurdi, Nigeria
尼日利亚马库尔迪
Pallbearers carry the coffins of people killed during clashes between cattle herders and farmers. Violence between the groups has claimed thousands of lives over the past few decades
Photograph: Pius Utomi Ekpei/AFP/Getty Images
Bhaktapur, Nepal
尼泊尔巴克塔普尔
A worker stacks bricks on his head at a factory in the east corner of the Kathmandu Valley
Photograph: Navesh Chitrakar/Reuters
Van, Turkey
土耳其凡
Water turns to ice as it drips down a wall in freezing temperatures
Photograph: Ozkan Bilgin/Anadolu Agency/Getty Images
Banda Aceh, Indonesia
印尼班达亚齐
A wild animal known as a binturung peers out of a cage at the Aceh Natural Resources Conservation Agency office. The agency takes in rare and protected animals from people who have them illegally as pets and releases them back to their natural habitat
Photograph: Hotli Simanjuntak/EPA
Dhaka, Bangladesh
孟加拉国达卡
Muslims from around the world attend Friday prayers in the streets during the first day of the three-day Muslim Congregation at Tongi
Photograph: Abir Abdullah/EPA
Burghead, Scotland
苏格兰伯格黑德
The Burning of the Clavie festival takes place at Doorie Hill. The ceremony – during which a clavie, a barrel packed with tar soaked sticks fixed on the top of a pole, is set alight – dates to the 1750s when the Julian calendar was reformed in Britain. The ritual is believed to bring good luck for the coming year
Photograph: Jeff J Mitchell/Getty Images
Misraba, Syria
叙利亚米哈拉布
A man and a child make their way through rubble in Eastern Ghouta, near Damascus
Photograph: Bassam Khabieh/Reuters
Montecito, California
加利福尼亚蒙特西托
A firefighter stands on the roof of a house submerged by mud and rocks. Mudslides in the south of the city have killed dozens of people, destroyed houses and swept away vehicles
Cox's Bazar, Bangladesh

孟加拉国科克斯巴扎尔
A Rohingya refugee child collects water from a well at the Unchiparang camp near Cox's Bazar
Photograph: Tyrone Siu/Reuters
Los Angeles, California
加州洛杉矶
A visitor hits a punchbag bearing an image of President Donald Trump, among other world leaders, as part of an installation entitled Left or Right during the opening of the LA art show
Photograph: Eugene Garcia/EPA


New Delhi, India
印度新德里
Soldiers take part in a laughter yoga session during a rehearsal for the Republic Day parade
Photograph: Adnan Abidi/Reuters
Lopburi, Thailand
泰国华富里
Police have captured a 72-year-old Japanese murder suspect who was recognised when photos of his distinctive tattoos went viral
Photograph: Reuters


Ouidah, Benin
贝宁维达
Followers celebrate National Voodoo Day. About 60% of Benin's 6.3 million population practice the religion
Photograph: Salym Fayad/EPA
Sydney, Australia
澳大利亚悉尼
Fans board a train to the Parkes Elvis festival, an annual event in New South Wales celebrating the music and life of Elvis Presley
Photograph: Peter Parks/AFP/Getty Images
Riyadh, Saudi Arabia
沙特利雅得
Pilots perform during an airshow at the Saudi Aviation Forum at Thumamah airport
Photograph: Faisal Al Nasser/Reuters
Washington DC, USA
美国华盛顿特区
Advocates for voting rights rally outside the Supreme Court which will deliver a ruling in a case deciding whether Ohio state has the right to purge voters from registration rolls
Photograph: Michael Reynolds/EPA
Rio de Janeiro, Brazil
巴西里约
An acrobat from Circo del Sol performs during a presentation in Urca. The display was cut short after an acrobat was injured in a fall
Photograph: Marcelo Sayao/EPA
Yangon, Myanmar
缅甸仰光
Reuters journalists Wa Lone (front) and Kyaw Soe Oo (behind) are escorted by police as they leave court. They were arrested for allegedly possessing classified police documents
Photograph: Lynn Bo Bo/EPA
Berlin, Germany
德国柏林
Angela Merkel appears relaxed at the beginning of a cabinet meeting in the Federal Chancellery
Photograph: Kay Nietfeld/AP
London, England
英格兰伦敦
Theresa May leaves Downing Street for the weekly prime minister's questions in the House of Commons
Photograph: Daniel Leal-Olivas/AFP/Getty Images
Las Vegas, Nevada
美国拉斯维加斯
A person looks at book-reading robots called Luka at CES International, the annual trade show organised by the Consumer Technology Association
Photograph: Jae C Hong/AP
Henan, China
中国河南
Plants in Huangbaishan national forest park are covered in ice after cold weather
Photograph: Xinhua/Barcroft Images
Kolkata, India
印度加尔各答
A sadhu performs for money from pilgrims before heading to Sagar island for the festival of Makar Sankranti
Photograph: Rupak de Chowdhuri/Reuters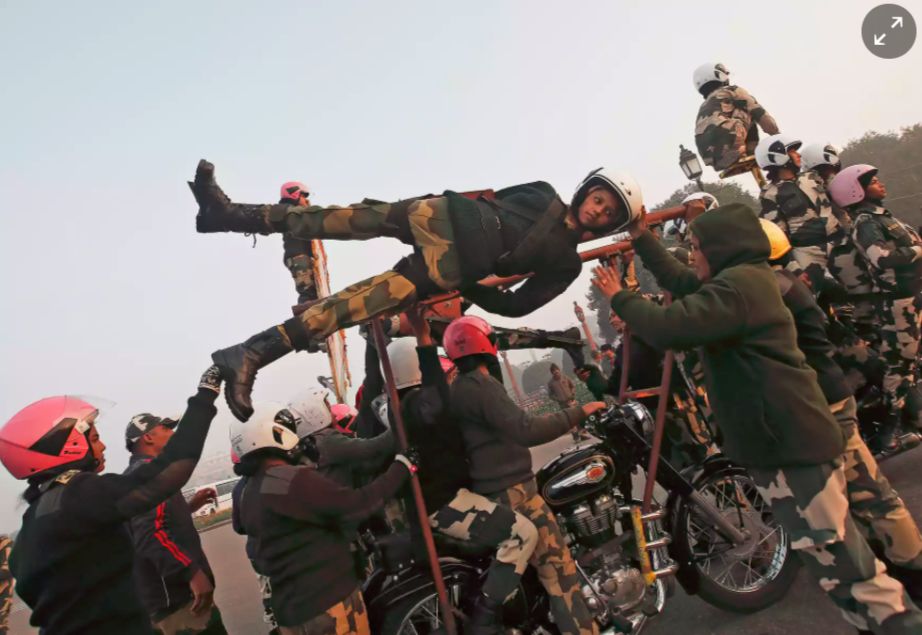 New Delhi, India
印度新德里
Border security force 'Daredevils' help a colleague to balance on a bike during a rehearsal for the Republic Day parade
Photograph: Adnan Abidi/Reuters
Montecito, California
加州蒙特西托
Emergency personnel help local residents and their dogs after amudslide
Photograph: Reuters
Madrid, Spain
西班牙马德里
Miners arrive for a demonstration against the closure of several thermal power plants
Photograph: Paul White/AP
London, England
英格兰伦敦
Cirque du Soleil rehearse at the Royal Albert Hall
Photograph: Terry Scott/Barcroft Images
Florence, Italy
意大利佛罗伦萨
y A model walks the runway at the Concept Korea: Beyond Closet e Bmuet(te) show during the Pitti Immagine Uomo at Fortezza Da Basso in Florence
Photograph: Vittorio Zunino Celotto/Getty Images
Douma, Syria
叙利亚度玛
A couple mourn the loss of a child in the rebel-held besieged town of Douma following air strikes on the eastern Ghouta region on the outskirts of Damascus. The child, named Amir, was wounded during air strikes on the town of Saqba and was evacuated to Douma, where he died.
Photograph: Hamza Al-Ajweh/AFP/Getty Images
Panmunjom, South Korea
韩国板门店
The head of the North Korean delegation, Ri Son-gwon, centre, attends a meeting in the DMZ. South and North Korea are scheduled to begin their first official face-to-face talks or two years.
Photograph: Pool/Getty Images
Erkelenz-Immerath, Germany
德国Erkelenz-Immerath
The desacralized St Lambertus church is demolished to enable brown coal surface mining. Residents from the village of Immerath have already been relocated

Photograph: Federico Gambarini/AFP/Getty Images
East China Sea
中国东海
Smoke rises from the Panama-registered Sanchi tanker, which is carrying Iranian oil. It caught fire after it collided with a Chinese freight ship.
Photograph: Reuters
Manila, Philippines
菲律宾马尼拉
Catholics carry the Black Nazarene, a statue of a cross-bearing Jesus Christ, at the start of its annual procession in Manila.
Photograph: Noel Celis/AFP/Getty Images
New Delhi, India
印度新德里
A coin diver stands on the bank of the polluted Yamuna river. The divers make their living by collecting coins that have been thrown into the river for good luck.
Photograph: Harish Tyagi/EPA
Queensland, Australia
澳大利亚昆士兰
An dead great hammerhead shark, an endangered species, is found in a shark net off a beach on the Gold Coast. Activists are calling for the Queensland government to remove the nets.
Photograph: Sea Shepherd Australia/EPA
St Petersburg, Russia
俄国圣彼得堡
Performers work with fireworks during a Christmas Star light show near the Peter and Paul Fortress.
Photograph: Alexander Demianchuk/TASS
Khan Yunis, Gaza Strip
加沙汗尤尼斯
Palestinian protesters demonstrate near the Israel-Gaza border east of Khan Yunis as they protest against calls for the closure of UNRWA by the Israeli prime minister
Photograph: Said Khatib/AFP/Getty Images
Okcheon, South Korea
韩国沃川郡
Buddha statues are covered with snow at a temple in Okcheon, about 170km (105 miles) south-east of Seoul
Photograph: YONHAP/EPA
Tunis, Tunisia
突尼斯突尼斯城
Protesters demonstrate against price hikes
Photograph: Anadolu Agency/Getty Images
Beverly Hills, California
加州好莱坞
Laura Dern, Nicole Kidman, Zoe Kravitz, Reese Witherspoon and Shailene Woodley of Big Little Lies, winner of the award for best television limited series at the Golden Globes. See our galleries ofred carpet fashion and after parties
Photograph: Mike Nelson/EPA
Xi'an, China
中国西安
The French president, Emmanuel Macron, and his wife, Brigitte, visit the Museum of Qin Terracotta Warriors and Horses during a state visit to China
Photograph: Charles Platiau/Reuters
Harbin, China
中国哈尔滨
Newlywed couples walk together during a mass wedding ceremony at the Harbin ice and snow festival. About 34 couples participated in the ceremony
Photograph: Wu Hong/EPA
Jiyuan, China
中国济源
Keen to learn some photography? Macaque monkeys look at a man's camera at Wulongkou nature reserve
Photograph: AFP/Getty Images
Yokohama, Japan
日本横滨
Women gather after attending a coming-of-age ceremony. The event is a Japanese holiday held every January to celebrate people who have reached 20, the official age of adulthood in Japan. In Yokohama, 37,000 people turned 20 this year, making the city's event one of the largest in the country
Photograph: Carl Court/Getty Images
Hwacheon, South Korea
韩国华川郡
A boy celebrates after catching a trout during an event promoting the local ice festival
Photograph: Kim Hong-Ji/Reuters
Dhaka, Bangladesh
孟加拉国达卡
Employees work in a jute processing mill in Narayanganj
Photograph: Mohammad Ponir Hossain/Reuters
Lalibela, Ethiopia
埃塞俄比亚拉利贝拉
Pilgrims walk between the rock-cut walls of an Orthodox church ahead of Ethiopian Christmas
Photograph: Tiksa Negeri/Reuters
Denizli, Turkey
土耳其代尼兹利
A tourist swims in Cleopatra's Pool amid the ruins of the ancient city of Hierapolis, part of the Unesco world heritage site at Pamukkale
Photograph: Cem ksüz/Anadolu Agency/Getty Images
Gaza City, Gaza
加沙
Orthodox Christians attend a mass led by Archbishop Alexios at the Church of Saint Porphyrius
Photograph: Mustafa Hassona/Anadolu Agency/Getty Images
Gaza City, Gaza
加沙
Children attend an Orthodox Christmas mass at the Church of Saint Porphyrius in Gaza City

Photograph: Mustafa Hassona/Anadolu Agency/Getty Images
Rafah, Gaza
加沙拉法
Children wade through water on a road that was flooded after heavy rainfall
Photograph: Mustafa Hassona/Anadolu Agency/Getty Images
Paris, France
法国巴黎
The French president, Emmanuel Macron, talks with the interior minister, Gérard Collomb, as they leave a ceremony to pay tribute to shoppers at a kosher store who were killed by an Islamist gunman three years ago
Photograph: Christian Hartmann/Reuters
Paris, France
法国巴黎
Nong Rose Baan Charoensuk, a Muay Thai boxer, gets ready before making her debut as the first transgender fighter to enter the ring in France
Photograph: Christophe Archambault/AFP/Getty Image
Hamouria, Syria
叙利亚Hamouria
A paramedic carries an injured child following airstrikes by Syrian government and Russian forces in the rebel-held town

Photograph: Abdulmonam Eassa/AFP/Getty Images
Logroo, Spain
西班牙洛格罗尼奥
Ty Taylor of the US band Vintage Trouble performs on stage during the Actual 2018 music festival
Photograph: Abel Alonso/EPA
Bogor, Indonesia
印尼茂物
A giant panda named Cai Tao relaxes at the Taman zoo
Photograph: Mahmut Atanur/Anadolu Agency/Getty Images
网编:网事随风


鲜花

(0)


鸡蛋

(0)

0 条


【手机扫描分享】
【新闻速递首页】【近期热门新闻】【近期热评新闻】